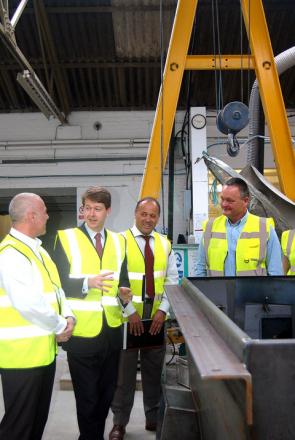 FACT-FINDING MISSION: Robin Walker, second left, with the firm's Neil Rossiter, Paul Knuckle and Steve Hunt.
WORCESTER'S MP Robin Walker has visited city-based Spectrum Biosecure, which is at the forefront of Britain's response to man-made and natural disasters across the world.
The MP toured the company's incineration systems factory in Checketts Lane.
Spectrum has been awarded a Department for International Development contract as a rapid response equipment provider, alongside well-known world emergency response partners such as the British Red Cross and Oxfam. Its task will be to provide incineration equipment within the first 72 hours following an emergency.
Paul Knuckle, Spectrum Biosecure's managing director, said: "Fast response in humanitarian disasters helps to save lives and reduces suffering. Our emphasis is on ensuring that animal carcasses are incinerated safely before disease breakouts.
"The contract means we can respond quickly and in the most effective manner needed at the time. We are delighted to have been awarded the contract. Only partners that have a proven record of response get through the pre-qualification process, so it is testament to the hard work that the whole teams puts in."
Comments are closed on this article.