Top Opportunities in and around Tewkesbury
N/A

West Midlands

Cleaner Astley Burf Outdoor Adventure Centre, Weather Lane,Stourport-on-Severn, Worcester, DY13 0SFPermanent, Part Time 6 hours per week Grade 1 - £6....

N/A

Worcester

Nurse Co-ordination Manager (Part-Time) Brentknoll Veterinary Centre is a long establish premium practice in Worcester. We are looking for a Nurse Co-...
My account
Receive email alerts
Save searches & jobs
Upload your CV
Sign in
Jobs & Careers Fairs
Jobs & Careers Fairs 2014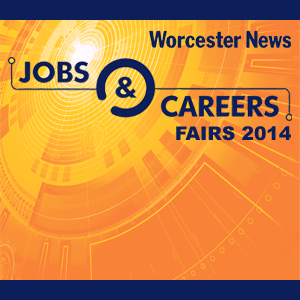 Thursday September 11th
Fair held at The Guildhall
High Steet
Worcester
10:00am - 4:00pm
Free Admission

The next Worcester News Jobs & Careers Fairs will take place on Thursday 11th September, at the Guildhall, Worcester and will attract around 1,000 jobseekers on the day.
The Worcester News is offering local businesses the chance to be part of this fantastic event and showcase any vacancies that they may have or offer jobseekers help in training for a new career path.
Book Early To Avoid Disappointment
To find out more details about exhibiting at the 2015 events please contact Richard Hencher on 01905 742355 alternatively Click Here to email.
To view the event preview from March 2014 Click Here

Find jobs by industry in and around Tewkesbury
Recruiting?
To browse CV's or advertise your latest vacancies, call us now on 01905 742356 (during office hours 9am - 5pm Monday - Friday) or alternatively e-mail now for further details of our print and online packages.
Or you may add your vacancy now via our self-service online payment facility. It will be published within minutes on this site and careerbuilder.co.uk
Jobs News

Major employer to create 110 new jobs in Brighton in the run-up to Christmas
A major employer has announced 110 new full-time jobs in the city centre in the run-up to Christmas.