Get involved! Send your photos, video, news & views by texting EJ NEWS to 80360 or e-mail us
Horse rescue from brook in Tewkesbury
2:18pm Monday 30th September 2013 in News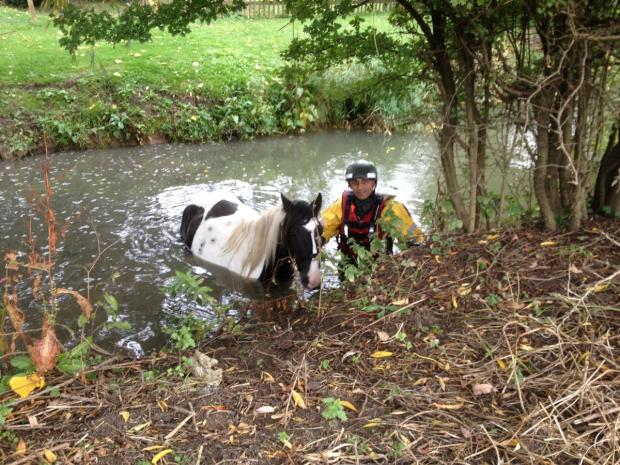 Faisal Atcha from the large animal rescue unit at Gloucester North
FIREFIGHTERS saved the life of a horse that had got stuck in a brook in Tewkesbury.
Gloucestershire Fire & Rescue Service were called at 12.03pm on Saturday after a horse that got in trouble in a brook off Bredon Road.
The mare had become stuck in the brook, separating her from her foal in the field.
The large animal rescue team from Gloucester North Fire Station were able to free her uninjured using a specialist horse collar.
Michael Keel, Crew Commander and animal rescue specialist, said: "When we arrived, the mare was upright and calm in the brook.
"We sent two firefighters in dry suits into the water, with one holding the horse and the other on standby for support if needed.
"Thankfully, we were able to get the specialist horse collar over her head, remove a small fenced area and lead her calmly to safely.
"I then checked her over and she was absolutely fine. The specialist training we receive is so important for rescues like this and her owner was extremely grateful for the successful rescue."
The swift water rescue team from Tewkesbury also attended the incident and were on standby in case more crew were needed.
With the county being so rural, the fire service is frequently called out to rescue large animals - the most common being horses, cattle, pigs and sheep who often find themselves trapped in machinery, bogs, rivers, pools, brooks and ditches or in traffic collisions.
- The large animal rescue team was introduced last year when Gloucestershire Fire & Rescue Service invested in special equipment and instructors so that firefighters have the best skills available to protect themselves when handling large animals.
Comments are closed on this article.