Get involved! Send your photos, video, news & views by texting EJ NEWS to 80360 or e-mail us
Worcester-based charity hits out at Tottenham Hotspur decision
8:40am Tuesday 5th November 2013 in News By Tarik Al Rasheed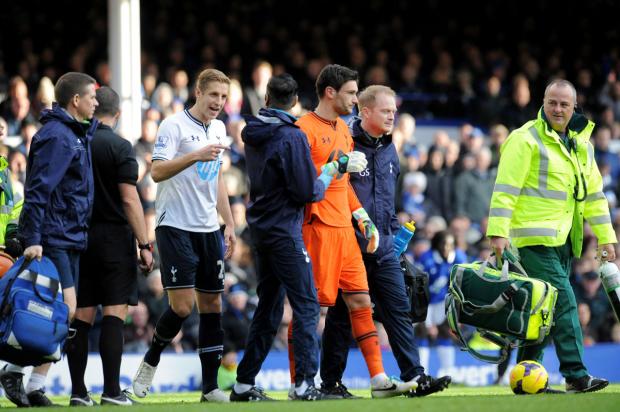 Tottenham goalkeeper Hugo Lloris was allowed to play on
THE boss of a Worcester-based brain injury charity has slammed the decision to let Tottenham Hotspur goalkeeper Hugo Lloris play on after being knocked unconscious as "foolhardy and irresponsible".
The keeper suffered a head injury when he collided with Everton striker Romelu Lukaku's knee late on during his side's Barclays Premier League match on Sunday.
The club has defended allowing him to carry on – with manager Andre Villas-Boas saying the keeper was determined to continue.
But Mel Akers, the new chief executive of Headway Worcestershire, is adamant it was the wrong decision.
He said: "I think it was irresponsible. In the good old days it was always a case of 'carry on and aren't you brave'.
"But that is foolhardy these days.
"Medical knowledge has moved on so anyone that loses consciousness, even as briefly as for five seconds, should take time to recover and get checked out."
Mr Villas-Boas told the BBC after the game: "Hugo seemed assertive and determined to continue and showed great character and personality. We decided to keep him on based on that."
But Ted Grizzell, co-owner of Malvern Town FC, managing director of Zig Zag Coaching and former football development officer for Worcestershire FA, said the decision should have been taken out of the player's hands.
"The physio and the team doctors are the ones that are qualified to make those decisions and they were quite clearly saying that he needed to come off," he said.
"If it was one of my players, the decision would have been made for them.
"If someone that was under my responsibility lost consciousness and I put them back into a competitive physical environment then I certainly could not sit easily and watch the game."
Guidelines from Headway and the National Institute for Health and Care Excellence say people should not play contact sport for at least three weeks after a concussion.
Comments are closed on this article.