Get involved! Send your photos, video, news & views by texting EJ NEWS to 80360 or e-mail us
Chancellor George Osborne's Autumn Statement live
Updated 5:06pm Thursday 5th December 2013 in News
This live event has finished
Latest
George Osborne has addressed Parliament on state of the economy
Changes to the state pension age announced
Business Rates also changed to help small businesses
Join in on Twitter @worcesternews and on Facebook at facebook.com/theworcesternews
5:06pm
That's it for the live updates - you can read our round-up of the statement and everything within, HERE.
1:47pm
That's a strong package for shops and high streets - good news for Droitwich, Evesham and Broadway - and all town and village centres

— @PeterJLuff 05 December 2013
1:47pm
1:41pm Thu 5 Dec 13
disgusted with local F.A says
Well here WE GO AGAIN Mr Osbourne and Mr Cameron setting the sights of us hard working class people and once again kicking us right up the hoop when are we going to stand up and be counted.how I would love a meeting with Mr Cameron to ask where is this country going.i have worked all my life and I am sick and fed up with being bullied by people who don't understand the ethics of the working class yes that means you osbourne and Cameron
1:46pm
Over on Facebook, Steve Evans has a simple idea:
"Don't make the rich pay more, just make the poor pay less, [it's] not rocket science is it?"
1:35pm
Fuel duty frozen again by 2015 it will be 20p less per litre than Labour planned

— @RobinWalkerMP 05 December 2013
1:33pm
THERE appears to be some confusion over the scrapping of the good old tax disc. The system is not being scrapped - we'll still have to tax our cars.
The system is simply being digitalised, so there will be no physical slip of paper to pop in the windscreen.
I can only presume this is because police officers can run an online check of any vehicle to discover whether it is taxed, so the need for the paper disc is no longer there.
12:53pm
If you don't fancy reading the entire statement, here is a word cloud showing the most commonly-used words. Interesting...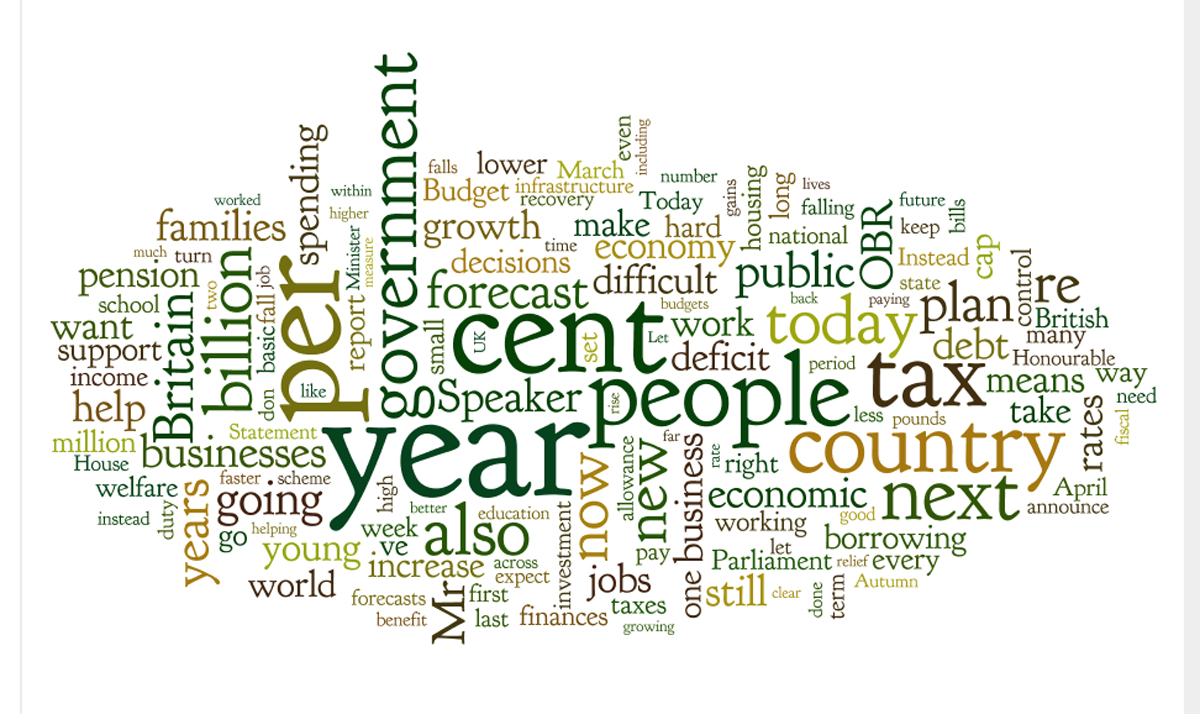 Click the image - or HERE - to see a larger version (opens in a new window)
12:46pm
RT @David_Cameron: .@George_Osborne showed our #LongTermPlan for the UK economy is working, "Great Britain is moving again - let's keep goi…

— @conservativesN 05 December 2013
12:19pm
IN FULL: I've uploaded George Osborne's Autumn Statement in full, if you missed anything or want to find out more detail.
12:12pm
Ed Balls is now responding to the Chancellor's statement. He says George Osborne is in "denial" about the true state of things.
12:11pm
Daniel Kepinski, on Facebook, has written a damning forecast for the state pension. Do you agree?
"Eventually they will cut the pension amd you'll have to work till you drop. Sad really.
"We (this generation) didnt create the debt so why should we work twice as hard to clear it. Raise corparation tax and tax people with higher incomes 75k or more?
"The goverment shouldn't be passing the burden onto this generation."
Daniel also says watching our live coverage would make him angry. Hope it's not something I said Daniel!
12:06pm
However, some are happy...
 
@George_Osborne has done more in terms of business rates in addressing reform and cost than any Chancellor I cam remember. Well done

— @PaulTMRetail 05 December 2013
12:06pm
Another unhappy customer.
Chris Clayton writes on Facebook:
"Get rid of tax discs yes, as it's pointless as our roads are awful. Raising state pension age is disgusting as I'm 30 and will already be 68 when I retire! If I was a teacher etc I can retire at 55-60 still, how about raise theirs too!
Cap our council tax, petrol, food, NI etc.
Oh and pay the work shy in food and drink tokens not cash as that money can be saved."
12:03pm
Any small business owners out there who pay business rates?
Small business rates to be capped at £1,000. Good news?
12:01pm
Autumn Statement in progress - #AS2013 - Rates capped at 2%, allowed to be paid over 12 months says Chancellor.

— @EvansPartners 05 December 2013
12:00pm
Over on our Facebook page, Natalie Barlow Ballard is not happy with the rise in pensionable age.
She wrote:
"Yeah we'll work 'til we drop while the rich live off the profits and there's nothing wrong with that! Sad world we live in eh?
"Want us to work longer -  then increase holiday allowance, make it easier for families and carers to obtain flexible working and readjust the work life balance in this country!"
11:56am
SCHOOL MEALS: Reception classes, years 1 and 2, will receive free school meals. 
11:55am
BENEFITS: In a move sure to be popular on the right, anyone aged 18 to 21 who signs on without basic skills in English and maths will have to undertake training or lose their benefits.
11:42am
TAX DISCS: It has been confirmed that after 90 years, the system requiring us to show a paper tax disc in our car windows is set to be replaced with an electronic register.
Makes sense.
11:41am
PENSIONS: The Chancellor has announced that anyone aged 49 and younger will have to work until they are 68 before they can receive the state pension.
What are your thoughts? Do people younger than 49 think about pensions at all?
11:38am
However, growth forecasts for this year have more than doubled, rising from 0.6% to 1.4%.
Next year, the forecast has been revised from 1.8% to 2.4%, and for the following four years to 2.2%, 2.6%, 2.7% and 2.7%.
11:37am
Bad news first: Revised figures from the Office of National Statistics show the UK's GDP declined by 7.2% in 2008-09, not 6.3% as previously thought, wiping £112bn off the UK's economy.
11:32am
Expected announcements include the raising of the age at which we can claim a state pension, a replacement scheme for tax discs on vehicles, as well as a possible cap on business rates.
You can get involved by tweeting us @worcesternews, or leaving a comment on Facebook at facebook.com/theworcesternews
11:31am
Chancellor George Osborne has declared that "Britain's economic plan is working" as he revealed an Autumn Statement containing bold steps to "remove that cap on aspiration".
Comments are closed on this article.