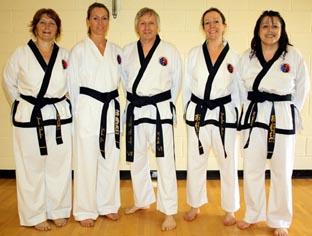 ACHIEVEMENT: From left: Jenny Theedam, Sarah Lee, Master Clive Harrison, Jackie Aberdeen and Jill Wanklyn.
FOUR students from Master Clive Harrison's Tae Kwon Do Black Belt Academy of Excellence have been promoted to first degree black belts.
Jenny Theedam, Sarah Lee, Jackie Aberdeen and Jill Wanklyn attended a national independent Tae Kwon Do Association black belt grading in Hereford along with other students from Worcester, Gloucester, Dursley and Cornwall.
Chief Instructor, Master Clive Harrison seventh dan, who has academies in Tewkesbury and Gloucester, has now helped more than 350 students to black belt and above.
He said: "The ladies have worked very hard to achieve their grade, it is not easy to attain black belt.
"If it was, there would be no challenge but it's not impossible and with hard work and dedication most people are capable of achieving this."
Comments are closed on this article.