LiveGCSE results out today!
This live event has finished
Summary
Students across the area are expecting their GCSE results today. We will be adding statements from schools as they come in here.
4:16pm
Bishop Perowne Church of England College, deputy head Dave Kling:
"Bishop Perowne students improved on our previous best results with 86 per cent of the year group achieving a minimum of 5 A*-C grades, once again surpassing the challenging target of 81% set by the Local Authority. This builds on, and takes forward, our good Ofsted report of May 2012 and consolidates a sustained and significant upward trend in achievement.
"Furthermore we are delighted to announce that in 10 GCSE subjects, including Physics, Biology, Chemistry, Art, Music, History and Geography over 50% of students gained an A or A* grade."

3:56pm
Hereford Cathedral School:
94.9 per cent of results were at A* to C with 38 per cent at A*.
3:10pm
King's School Worcester, headmaster Tim Keyes:
"This is a very good outcome for a hard-working group of students and sets them up very well for A level and for university applications in due course. I am very impressed with the mature and dedicated approach that they have taken towards their exams. They know how important they are to their future and this concentrates the mind. They also get on really well with their teachers who, for their part, are always ready to go the extra mile."
All 134 pupils gained at least five A* to C grades.
2:44pm
Well done Aimee!
@worcesternews i got 6 A's, 4 B's, and a C #WNGCSE

— @Aimee_Merrygold 23 August 2012
1:43pm
Droitwich Spa High School, headteacher, Natalie Waters:
"This is great achievement and brings credit to the candidates and to all who have taught and supported them in various ways. What we have to remember two things as we look at this improvement. That increase of 11% is not just a statistic. It represents 33 individual young people who now have a greater range of opportunity as they move on to the next phase of their lives.

"We should also remember that success comes in different forms. Within our 300 candidates there are very many individual achievements. As I study the results I am delighted to see that so many of their efforts have been rewarded."
62 per cent of pupils achieved at least five A* to C grades, including English and maths.

1:37pm
Bishop Perowne CE College:
86 per cent of pupils achieved at least five A* to C grades.
1:16pm
Dodderhill School, Droitwich, headteacher Catherine Mawston:
"I am absolutely thrilled with all of the girl's achievements this year; they have all worked tremendously hard and should be extremely proud of themselves, not just for their GCSE results but how they have developed as young women, now ready to face the next chapter of their lives.
"GCSE's can often make it hard to encourage the girls to explore different paths or deviate from a set plan due to the rigidity of the 'perfect answer'. At Dodderhill, I try to encourage the girls to take risks so that they can learn positively from failings, build up resilience and have the courage to go onto succeed in the future."
71 per cent of students gained A* to B grades and 43 per cent achieved A* or A grades.
93 per cent got five or more A* to C grades.
12:31pm
Dyson Perrins CE Academy, Malvern, assistant headteacher Stuart Wetson:
"We are understandably proud of and delighted with their achievements as they reflect the hard work and effort that has been put in by our students and their teachers. We are now looking forward to helping them to develop in our sixth form as they begin their post-16 courses in September."
76 per cent of pupils achieved five or more A* to C grades and 56 per cent gained five or more A* to C grades including English and maths.
12:21pm
Malvern St James, headmistress Patricia Woodhouse:
"All credit to the girls and their teachers who have given their School so much to be proud of today. Following on from our outstanding A Level results last week, this level of academic success is fitting testament to our vibrant, ambitious learning environment and a positive 'can-do' culture which offers every girl the opportunity to achieve her personal best. We wish these young women ongoing success with their A Level studies here at MSJ, where their future is clearly very bright."
58 per cent of all grades were A* to A
12:09pm
Evesham High School, headteacher Caroline Browne:
"Whilst politicians continue to demand on the one hand that students do better every year, yet on the other hand decry a so-called dilution of standards if they do improve, we know that our students have worked hard to achieve results that are better than the average and have done themselves proud. Congratulations to them all and to staff who worked hard so that they could achieve their best. They can now go on confidently to the next stage in their education."
The overall pass rate for pupils with five or more A* to C grades was 79 per cent and 54 per cent achieved five A* to C grades including English and Maths.
12:04pm
Bredon School, headmaster John Hewitt:
"We are delighted. Our pupils' hard work and determination has been rewarded this morning. In the school's 50th year, it's very pleasing to see the happiness and relief of both students and parents."
81 per cent of pupils attained five or more grade A*–G passes.
12:04pm
Students from RGS Worcester.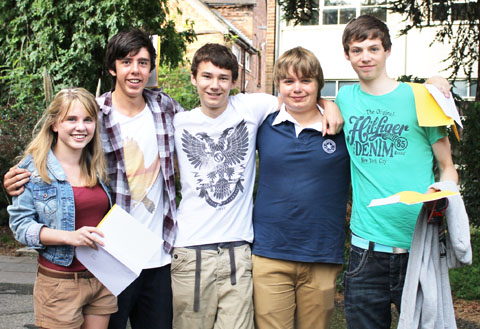 11:59am
The Chase School, Malvern:
The amount of pupils gaining five or more GCSEs at A* to C has now been amended to 74 per cent.
11:57am
Prince Henry's High School, incoming headteacher Tony Evans:
"I would like to offer my congratulations to the students, and everybody who has supported them, including their teachers and families. These results highlight once again the outstanding standards here at Prince Henry's, and they are a tribute to the hard work and dedication of the pupils, the quality of the teaching, and the continuous support provided from parents and families. I would like to pay tribute to the leadership provided by Mr. Roberts and I am now very much looking forward to working with everyone associated with the school community over the coming months and years."
Overall 84 per cent of students achieved five or more A* to C grades, with 68 per cent gaining five A* to C passes including English and maths.
11:46am
RGS Worcester, headmaster Andy Rattue:
"These excellent scores continue the pattern set by our A Level students. They buck the national trend away from academically challenging subjects and show what can be achieved by motivated pupils, first-rate teachers and supportive parents. The results are all the more remarkable when you consider how much these students have also achieved beyond the classroom in sport, drama, music and adventurous outdoor pursuits."
The overall pass rate at A* to C was 97.6 per cent with every candidate achieving five A* to C grades.
61.1 per cent of all passes were at A* to A.
11:36am
Queen Elizabeth Humanities College, Bromyard, headteacher Michael Goodman:
"I am pleased that we have consolidated the progress we have been making over the past three years and I am confident that next summer will see another record year for results. QEHC has certainly turned the corner and achievement is now part of the culture of the school."
65 per cent of students achieved five or more A* to C grades, including English and maths.
11:32am
Have just read Clive Corbett's (Head of Pershore High) comments on lower % of 5 A*-C inc English and Maths. It is devastating for students!

— @cllrfranoborski 23 August 2012
11:29am
John Masefield High School, Ledbury, headteacher Andy Evans:
"These impressive results have are a product of consistent application and dedication from our students. Whilst the number of A* and A grades are particularly high, I am equally proud of every one of the students and know how hard they have worked to achieve their grades. I am extremely grateful for the continued support of parents and for the countless hours given up by staff to ensure that all students were so well prepared for their examinations. The results were well above national averages and represent what can be achieved through committed partnership and a desire to achieve the very best."
97 per cent of all students achieved five A* to C grades with 61 per cent achieving five or more A* to C grades including English and maths.
11:29am
A, B, B, B, B, B, B, B, C, C :) #GCSEResults

— @SarahMalkin1D 23 August 2012
11:20am
Malvern College, headmaster Antony Clark:
"We are delighted with the success of our candidates who have as a group exceeded our expectations. Well done to the students concerned as well as their teachers who have worked so hard with them."
61.8 per cent of subjects returned grades of A* or A, with 34.5 per cent at A*.
Overall 97.3 per cent of subjects achieved grades of A* to C.
11:11am
Alcester Grammar School:
All students achieved five A* to C grades including English and Maths and 36.3 per cent of all results were marked at A*.
11:10am
Sooo I got 3 A*'s , 5 A's, 1 B and 1 C 😃 so unbelievably happy!!! #results #GCSEresults #GCSE

— @lauramorrison_ 23 August 2012
11:10am
2D's 6c's 2B's 2a's aaaaah not to bad then :) #gcseresults

— @Gwennan_W 23 August 2012
11:08am
Bromsgrove School, headmaster Chris Edwards:
"To have recorded our best ever A level and GCSE results in the same year is a champagne moment in our 500 year history."
More than a third of all results were at A*, 63.5 per were at A* to A and 87.5 per cent at A* to B.
10:41am
The Chantry School, Martley, deputy headteacher Darren Reynolds:
"We are extremely pleased with these results and would like to express our congratulations to our students and dedicated, hard working staff who have made these results possible."
77.2 per cent of pupils achieved five or more A* to C grades including English and maths.
90.44 per cent gained five or more A* to C grades.
10:37am
St Mary's Worcester, headmistress Catherine Jawaheer:
"I am proud of every single one of our GCSE candidates this summer, from our most academic students right through to those who find life in the classroom a bit of a struggle! A combination of the girls own hard work, together with the very personal support and motivation given by our dedicated staff through our mentoring scheme, has resulted in another strong set of results across the curriculum.
"The results in science are particularly pleasing and show that when in a culture and environment free from gender stereotyping, girls are able to get stuck into and excel in those subjects traditionally associated with boys. Together with our A level results, our best for eight years, these results demonstrate the achievements that can be made when education is focused on identifying, encouraging and challenging the specific gifts and talents of each student which is exactly what we aim to do here at St Mary's."
96 per cent of all candidates gained five or more A* to C grades and 48 per of all grades were A* to A.

10:28am
Nunnery Wood High School, headteacher Alun Williams:
"We are absolutely delighted with these outstanding results that our students have achieved. They worked very hard indeed for them and they thoroughly deserve their success. We could not be happier for them."
66 per cent of all students achieved five or more A* t0 C grades including English and maths, and a third of all results gained an A* or A.
10:11am
The Chase School, Malvern, headteacher Kevin Peck:
"The school is delighted that students of all ability levels again achieved their potential, proving once more that, whilst offering an outstanding extra-curricular programme, The Chase also provides students with every opportunity for high academic achievement. These results are justified reward for the hard work over many years of students and staff, as well as for the support of parents. Congratulations and celebrations are well-deserved all round, especially given the increased expectations imposed at the end of the two year GCSE course by the exam authorities."
68 per cent of pupils gained five or more GCSEs at A* to C, with 55 per cent gaining five or more A* to C including English and maths.
10:07am
Hanley Castle High School, near Malvern, headteacher Lindsey Cooke:
"We are all so proud of our students. They have worked exceptionally hard throughout their school careers, and today's fantastic results are exactly what they deserve. It is a real credit to them that a number of our Year 11 gave up their summer holiday to work on educational projects in Tanzania. We are looking forward very much to hearing their stories as they commence a new stage in their school careers as members of our sixth form in September. I would also like to pay tribute to the very high levels of support provided for these students by both teachers and parents. It is the partnership between the students, their parents and their teachers which makes outstanding results like these possible."
70 per cent of students gained five or more A* to C grades, including English and maths.
The overall pass rate was 99.9 per cent.
10:02am
Pershore High School headteacher, Clive Corbett:
"Instead of celebrating a marvellous set of GCSE results we are trying to get justice for the young people whose futures are being played around with. These global figures of course mask a huge number of extraordinary individual results, achieved by hard working students supported by very committed staff. I would again like to congratulate all concerned. It is a great shame this year that our overall performance has been significantly affected by a serious anomaly with our English Language results. We are working very hard with the examination board and other national bodies to rectify this."
70 per cent of all pupils achieved five or more A* to C grades, with more than 72 per cent of all grades being C or higher.
The five A* to C rate including English and maths was 50 per cent compared to an expected 68 per cent.
9:49am
I was in the very 1st yr to take GCSEs. I remember my results well. If I rearranged the letters I could have almost spelled my name #WNGCSE

— @murraykelsoWN 23 August 2012
9:37am
Press Association news alert :
The proportion of GCSEs awarded at least a C grade has fallen for the first time in the exam's history, official figures revealed today.
9:26am
Getting your GCSE results today? Tweet us with #WNGCSE and tell us how you did!

— @worcesternews 23 August 2012
9:22am
Tenbury High School
The figure for students gaining five or more A* to C grades, including English and maths, was 67 per cent.