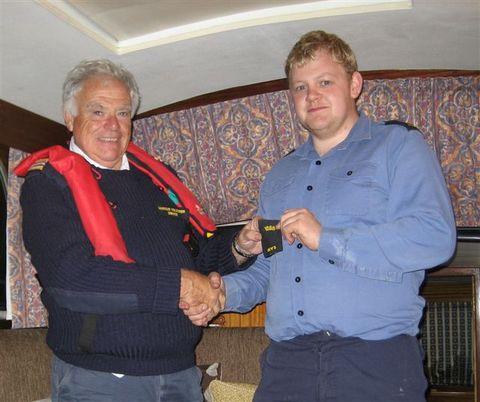 Ben receives his new epaulettes
Pictured is Severn Unit Maritime Volunteer Service member Ben Foster-Smith from Mitton receiving his new epaulettes for Volunteer Able Seaman from Regional Volunteer Officer David Frazier from Bristol at the Unit's last meeting. The Unit meets every Monday evening and is a familiar sight out on the rivers around Tewkesbury during the Summer months but will soon be commencing the new training programme for the Winter. New members are welcome.
Head of Unit Nic Price said "We were very pleased that Ben had earned his promotion following completion of his training course which culminated in him successfully operating the fire pump on board the Port of Bristol's workboat Colliter during a recent visit to Avonmouth. Ben has been a valued member for some years and is always actively involved in the Unit's many varied activities and is also Head of Engineering."
Comments are closed on this article.