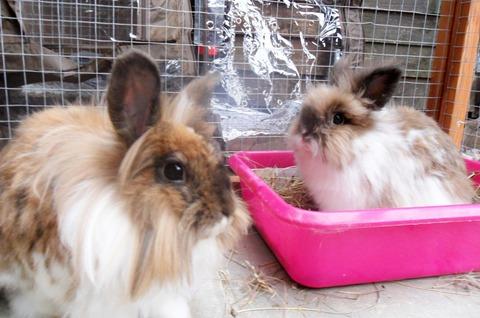 Mo and Joe
To celebrate Rabbit Awareness Week (15 to 22 September), the RSPCA South Cotswolds Branch are running an awareness event to help people find out more about Rabbits.
RSPCA Rabbit Expert Nicola Stanton will be available on Saturday 22nd September at Nailsworth Garden Centre for people who pop by between 10am - 4pm. Micro-chipping for £10 will be available during the day.
Mo & Joe are two rabbits that the Branch are currently looking after. They are 2 brothers that are about 18 months old and came in, in a very neglected state. They were kept in a small indoor cage with barely enough room to take 2 hops and not enough height to stretch up fully.
They are easy to handle, accept grooming without problem and all in all are totally transformed and now enjoying life to the full. They will make a lovely addition to a rabbit loving household. Mo & Joe are available now, to a good home.
If you would like to adopt a rabbit, please call Nicola on: 07772 737 503. For more information visit the branch website at www.rspca-southcotswolds.org.uk. For more information on Rabbit Awareness week, please visit: www.rabbitawarenessweek.co.uk
Comments are closed on this article.