Royal Mail workers are to stage a 48-hour strike in a "watershed" dispute over pensions, pay and jobs, prompting the threat of legal action by the postal group.
Members of the Communication Workers Union will walk out at 11am on October 19 after voting massively in favour of taking industrial action.
General secretary Dave Ward said: "This is a watershed dispute that will determine not only our members' pensions, jobs and pay but also the future of the service."
The Royal Mail said it was committed to hold talks with the union as a matter of urgency but said it will use all legal options at its disposal, including applying to the High Court for an injunction to prevent the action going ahead.
Mr Ward said: "Postal workers delivered a massive Yes vote for strike action and we are determined to take whatever steps are necessary to deliver an agreement that will protect and enhance our members' terms and conditions and improve the range of services on offer to customers.
"As well as this call to action, the CWU will now launch a major campaign to gain public and political support for postal workers. This is your service. We must work together to save it."
Royal Mail said it was "very disappointed" at the announcement, adding: "The company is committed to further talks as a matter of urgency to reach agreement with the CWU. There are no grounds for industrial action. We want to reach agreement.
"Royal Mail will be writing to the CWU invoking the external mediation process under the dispute resolution procedures in the Agenda for Growth. These legally-binding dispute resolution procedures were set up as a vehicle to resolve industrial disputes. We wish to use them to do just that.
"In 2013, Royal Mail and the CWU committed to the Agenda for Growth – a legally binding agreement. This agreement contains contractual dispute resolution procedures.
"Both sides are required to follow them once instigated. They escalate to independent external mediation, which we expect will take close to Christmas to be completed, and may be longer.
"External mediation as set out in the Agenda for Growth agreement has not yet taken place."
The union's deputy general secretary, Terry Pullinger, said: "It is highly disappointing that after 18 months of negotiations including external mediation that we have reached this point.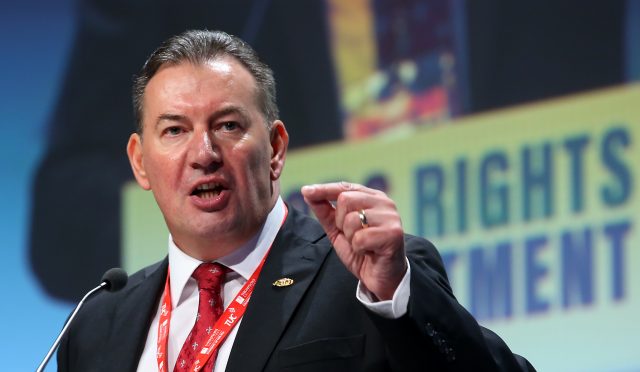 "Royal Mail Group management have clearly moved away from the spirit and intent of our agreements and the empty promises of privatisation, and have suffered a huge vote of no confidence from their employees and CWU members as a consequence.
"People are extremely angry and will now express that by overwhelmingly supporting this strike action in order to shift Royal Mail Group from their entrenched position, protect themselves and this great public service."
The union said the strike will involve around 110,000 workers across the UK.
The decision to press ahead with a strike followed an 89% vote for action in a ballot of members.
It will be the first strike at Royal Mail since the postal group was privatised.
The CWU said its members in Parcelforce will be involved in the stoppage, which will be the first national postal strike since 2013.
Under the Trade Union Act, the CWU had to give two weeks' notice of the strike, as opposed to a week under previous legislation.
A Royal Mail spokesman added: "We believe any strike action before the dispute resolution procedures have been followed would be unlawful strike action."