Get involved! Send your photos, video, news & views by texting EJ NEWS to 80360 or e-mail us
Tewkesbury artist Helena Hague launches greeting card range inspired by Wales
10:27pm Thursday 17th January 2013 in Tewkesbury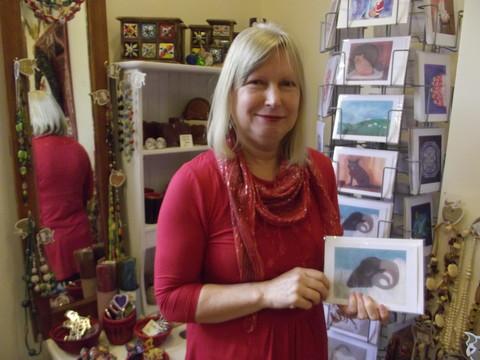 Helena's artistic enterprise
Tewkesbury artist Helena Hague has launched a range of greetings cards featuring her artwork.
Helena's inspiration for painting comes from childhood holidays spent in Wales and her passion for the great outdoors. She uses both watercolour and pastels.
"When I was growing up I spent all my spare time in a cottage in mid Wales on the outskirts of Aberystwyth. The cottage has breathtaking views of forestry land and open green fields".
"I love the changing light and the rugged scenery which I try to interpret into my work" continues Helena.
Helena's pictures include Welsh landscapes varying from dramatic dark wooded scenes framed by trees to lush green fields with grazing sheep.
As well as landscapes Helena's card range also includes the Zodiac signs and the best-selling card features a ginger cat, favoured by animal loves for its cheeky grin.
The cards have been left blank inside so can be used for any occasion and are available from Tewkesbury store, Kalliste, at 19 Church Street.