Get involved! Send your photos, video, news & views by texting EJ NEWS to 80360 or e-mail us
People find out what happens when they flush
7:00pm Thursday 5th September 2013 in Tewkesbury By Paul Broome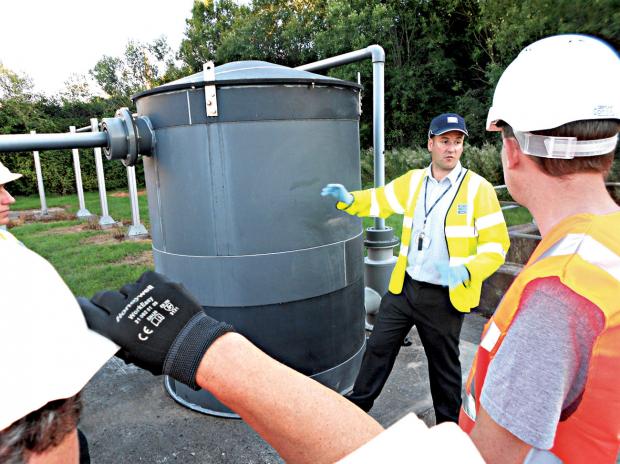 SITE TOUR: Gareth Mead shows visitors around the Severn Trent treatment works near Droitwich.
SEVERN Trent customers were able to explore what happens to their waste water when the bowels of a sewage treatment works were opened up.
Dozens of people turned up to tour the water company's site at Hadley, near Droitwich, which has just undergone £2.5 million pounds of improvements.
It is hoped the works will help reduce odours and protect waterways in the area.
Those touring the site this week were given an insight into what happens to their toilet, bath and kitchen water after it leaves their home.
Severn Trent's Gareth Mead said: "In the current weather conditions, water coming to this site will take about 12 hours before it goes back into the water course.
"This will change during very wet weather and also the time of the day. In the middle of the night, for instance, flow slows right down."
The site deals with the waste water of about 45,000 homes and takes in 80 litres of water every second.
He said that, apart from the obvious, the 'solid' items that come into the plant have included the likes of wedding rings, wrist watches and dentures. Increasingly, ear buds and kitchen or sanitary wipes are also getting caught up in the system.
"We're trying to get people to bin these items instead of flushing them," said Mr Mead.
"We do get enquiries asking whether we have seen someone's wedding ring."
Among the oddities of life at the sewer plant is the collection of tomato plants at the solid's 'end tray'.
They have grown from the fruit's seeds which don't break down in the system.
Visitors were told that waste products which aren't discarded are sent to sludge treatment units before being placed in off-site 'digesters' and mixed with oxygen to produce methane which is used to power various units on site.
Severn Trent's service delivery manager, Paul Acton, said: "We're installing new equipment to help filter waste water and remove more chemicals, which will further protect the local environment and improve service for our customers."
Comments are closed on this article.