Get involved! Send your photos, video, news & views by texting EJ NEWS to 80360 or e-mail us
How you can help Tewkesbury charity win £3,000 grant
10:58am Tuesday 1st October 2013 in Tewkesbury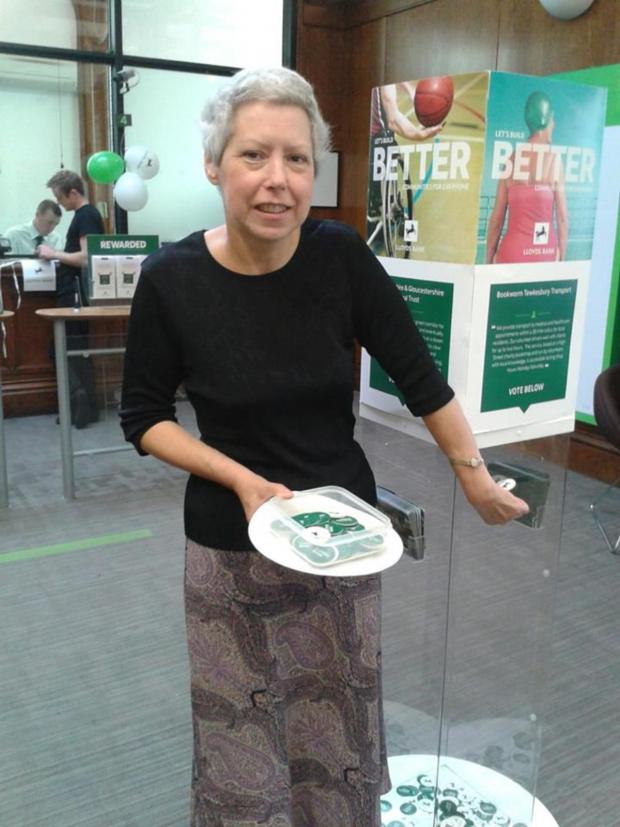 Picture shows Karen Brennan of Bookworm at Lloyds Bank, Tewkesbury
A Tewkesbury charity which provides door to door transport enabling local people to attend medical and hospital appointments has been shortlisted for a Lloyds Bank community fund award.
The high street based charity in Tewkesbury which also runs a charity bookshop named 'Bookworm' has applied for an award of £3,000 which will be used to recruit more volunteer drivers and purchase a swivel seat enabling less mobile transport users to get in and out of vehicles more easily.
Karen Brennan manager says "For a nominal contribution, local people can pre-book transport to enable them to attend GP or hospital appointments. Our volunteer drivers will pick them up from their home, drive them to the appointment, and if they wish to be accompanied during the consultation, will stay with them and bring them home again. Its much h less stressful than booking a taxi and less expensive too".
If you would like to vote for the charity to receive the funding, you can pop into a Lloyds TSB Bank branch in Tewkesbury, Bishops Cleeve or Brockworth and pick up a voting token, or vote online by using this link https://communityfund.lloydsbank.com/voting/cf_home.asp and entering "Bookworm" in the search box.
The closing date for voting is 1 November.
Comments are closed on this article.