Get involved! Send your photos, video, news & views by texting EJ NEWS to 80360 or e-mail us
Generous townspeople donate to Tewkesbury food bank
10:47am Monday 9th December 2013 in Tewkesbury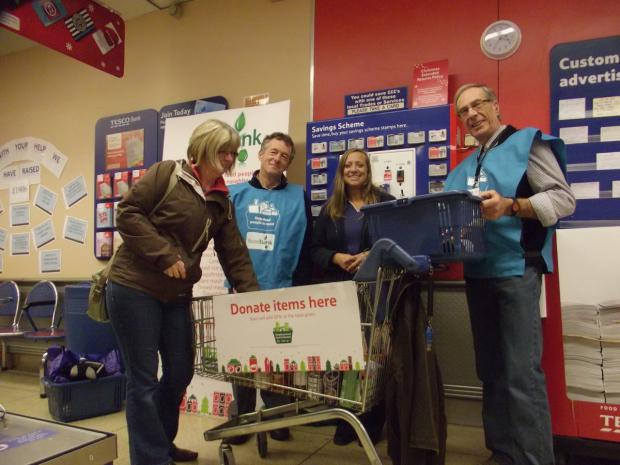 Stocking up: Volunteer Andrew Beadle, with Tesco employee Sandra Davies, fellow volunteer David Meredith with shopper Jackie Jones.
Volunteers at Tewkesbury Food bank have issued a public thank you to folk who donated food during a three day collection at the town's Tesco metro store.
The collection was part of a national campaign to help families in food crisis. A total of 32,000 trolley-loads of food were donated to food banks across the country equating to 4.3 million individual meals. In Tewkesbury 627.76kg of non-perishable foodstuffs including tins and cans, coffee and biscuits were donated at the Bishops Walk store. On average the food bank with its collection centre based at Holy Trinity Church Hall, helps 60 people and families every month experiencing a temporary food shortage.
Food bank co-ordinator Gordon Sandford says ""We collected sufficient supplies of emergency food to help 60 single people or 25 families with children for 3 days. A big thank you to everyone who helped out or gave us food. In particular we'd like to thank Victoria Cox Chanin manager at Tesco's and Stefan Roberts of RED who kindly let us have use of his van which helped enormously". If you would like to find out more about the work of the food bank or would like to make a donation ring 01684 439 471 or go to www.tewkesbury.foodbank.org
Comments are closed on this article.