Get involved! Send your photos, video, news & views by texting EJ NEWS to 80360 or e-mail us
Festival title sealed by Bredon
7:20am Thursday 10th January 2013 in Sport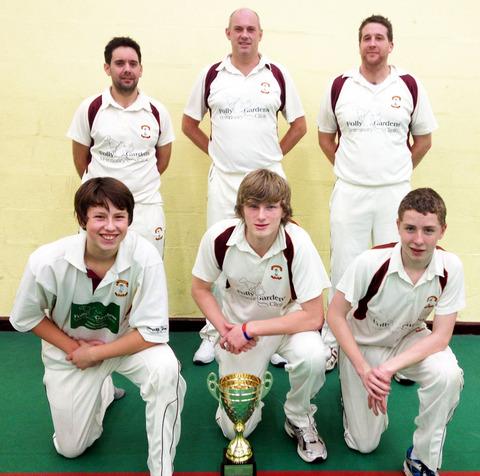 INDOOR CHAMPIONS: Bredon's players pose with the trophy, back row (left to right): Jamie Munro, captain Clive Fenney and Martin Hill. Front: Dominic Fenney, Tim Fenney and Jamie Diamond. Jon Gregory is not pictured. Picture: SIMON PRICE
BREDON became the first winners of the Eveshambased Worcestershire Cricket Centre's Festival of Indoor Cricket by defeating Feckenham in an exciting final.
Needing two runs off the last ball, they successfully collected three to secure victory despite 56 from Feckenham's Steve Adshead in the match.
The semi-finals saw Bredon edge out Old Elizabethans and Feckenham comfortably defeated Leamington.
Old Elizabethans topped their group consisting of Astwood Bank and Bretforton the previous weekend.
Leamington finished above Exhall and Wixford and Badsey, while Bredon defeated Stratford-upon-Avon twice.
Feckenham took more wickets in a group involving Dumbleton and Harvington after all sides won one game each. The centre are looking for sides to enter their indoor league in October. To enter, call 01386-45074