Get involved! Send your photos, video, news & views by texting EJ NEWS to 80360 or e-mail us
Strong second-half display sees Evesham go clear in fourth spot
9:40am Saturday 12th January 2013 in Sport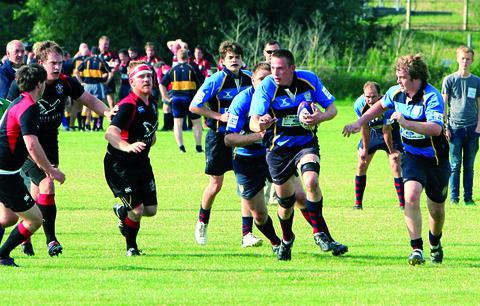 LINE-OUT WINNER: Evesham second row Clive Smart (centre). Picture: ROLAND BAILEY
EVESHAM went five points clear in fourth spot in Midlands Three West (South) after a 32-22 win over Woodrush.
Hosts Woodrush got off to their customary slow start and, after conceding a penalty on the 10-metre line, the ball was kicked to the corner and the resulting pressure led to a try.
Woodrush extended their lead to 8-0 with another penalty before Evesham began to play.
After Simon Corbett gave them field position, the front row of Stewart Stock, Henry Webb and Josh Greatrix provided a platform for Stef Lasota and Sam Huckvale to create space and Alex Jackson scored.
Mike Diston converted but Woodrush replied with another penalty handing them field position to launch a forward onslaught.
Brave defence from Ben Dziczkaniece, Zak Shotton and Nathan Chambers could not prevent a converted Woodrush score making it 15-7.
A response was needed and good line-out work from Pete Taylor and Clive Smart allowed Shotton to break from a maul and release Webb to fall over the line.
But the momentum of the game went Woodrush's way again and they scored a wellconverted try to put the hosts under pressure.
Evesham started the second-half strongly with Dan Humpston and Corbett giving them territory. The next score came when a Jackson break through the midfield resulted in a weighted pass to Diston who gatherered and offloaded for Huckvale to make it 22-17.
Evesham gathered momentum and, after good forward phases by Garrett, Taylor and Dziczkaniece, the ball came to Diston who chipped over the opposition defence for Zac Reid to level.
With the game on a knife-edge, it could have gone either way but a huge forward effort earned the hosts a penalty 15 metres in from touch.
Diston stepped up and nudged Evesham into the lead at 25-22.
With both sides battling hard, they sealed the match after impressive work from Sam Hopkins.
Lasota made a 60-metre break from his own half, offloading to Jackson.