Get involved! Send your photos, video, news & views by texting EJ NEWS to 80360 or e-mail us
Carroll pays tribute to Mujamead after Doncaster fall
10:10am Friday 8th February 2013 in Sport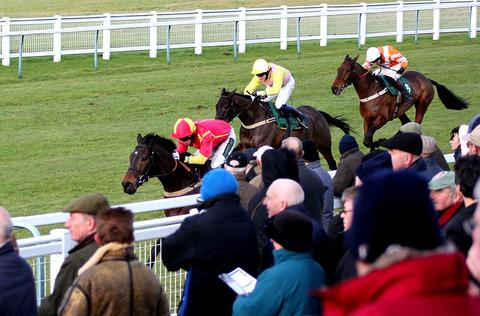 CLOSE TO HOME: Kinkeel (left) on the run to the line in second place ahead of Orang Outan and Domoly. Picture: ALAN CHAPMAN
CROPTHORNE trainer Tony Carroll insisted it was 'just one of those things' after his horse Mujamead suffered a fatal fall at the final flight in Doncaster's Listed 32Red Hurdle.
The meeting was also overshadowed by the death of Cheltenham Festival prospect Darlan.
Carroll, who was at Wolverhampton, said: "The horse was jumping nicely and travelling very well but made a small mistake, fell and broke his back leg.
"Unfortunately, that happens in racing sometimes."
Carroll added: "He was a nice horse and always did his best. It is just one of those things."
Nine-year-old Mujamead, owned by the Six Pack syndicate, claimed a 10-length victory over veteran stable-mate Kinkeel at Towcester last week when priced at 9-1.
Kinkeel, owned by Group One Racing Club, is pursuing the world chase record of 119 set by Elkridge in the USA in 1951.
He is up to 111 but is unlikely to hit the target this season with a string of meetings abandoned.
Kinkeel should tackle Saturday's Game Spirit Chase at Newbury.