Get involved! Send your photos, video, news & views by texting EJ NEWS to 80360 or e-mail us
Nine-try Evesham seal fine triumph
9:30am Saturday 9th February 2013 in Sport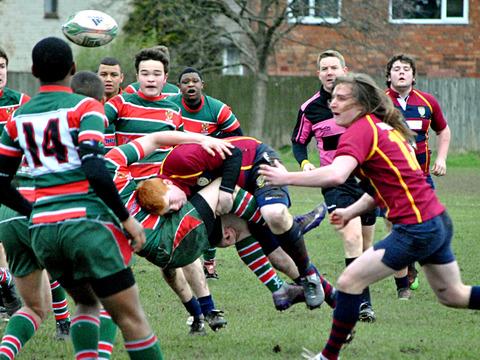 TEXTBOOK TACKLE: Ash Icke displays his defensive skills for Evesham Rugby Club's under 17s in their 55-0 friendly Picture: GINO DI FRANCO.
EVESHAM under 17s powered to a 55-0 friendly win at Aston Old Edwardians.
They bagged nine tries with an impressive display featuring solid set-pieces and manof- the-match Dom Berry led the way with fine work in the loose.
Alex Stoddart, Wilf Watson and Henry Murray scored in the first period with Mike Harris converting two to make it 19-0.
Wingers Sam Laight and Jake Shotton added to the try feast with Harris, Watson, Ben Middlicott and Ash Icke also diving over. Three were converted.
A joint under 15s and 16s team won 29-24 at Alcester after a hard-fought clash.
Evesham dominated the first-half with effective tackling from Harry Howells, Joe Tryner and Jack Evans.
Tryner, Fred Hopper and Josh Perr scored tries with Sam Roberts converting one.
Player-of-the-match Dylan Cross and Howells added further efforts with Tryner kicking the extras as Evesham held off a late Alcester comeback.
James Richardson and Kieran Raymer were joint players-of-the-match as Evesham under 14s lost 37-0 at Worcester in the North Midlands Cup.
The under 13s fell 25-20 at Alcester after battling back from 15 points down.
Evesham's threat mainly came from driving work by the pack, particularly by player-of-the-match Harry Dyers and number eight Ollie Gould, who scored a try each, while Will Bugg bagged a brace.