Get involved! Send your photos, video, news & views by texting EJ NEWS to 80360 or e-mail us
Bowls
4:30pm Sunday 10th March 2013 in Sport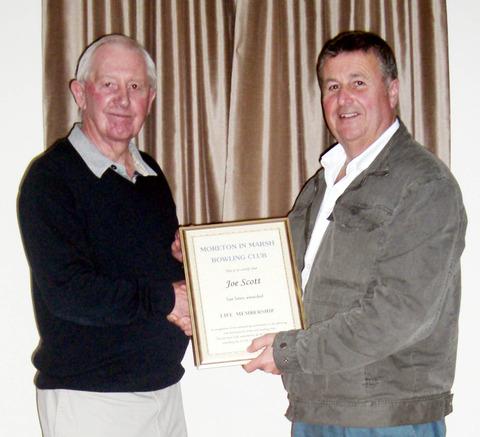 Joe Scott (right) is presented with life membership of Moreton-in-Marsh Bowls Club by chairman David Stanfield. Picture: MIKE WAINWRIGHT.
DEDICATED Joe Scott has been rewarded for his efforts with life membership of the Moreton-in-Marsh club.
Scott has held many committee positions over the years, including chairman, as well as being a fine bowler and a committed supporter of the sport's development.
He played a key role in relocating the club when it became clear they would have to move from Hospital Road towards the end of the last century.
With the help of members Barry Peaston and John Finch, a new location was found after more than a decade of tough negotiations.
In October 2010, work on constructing the green and building of the clubhouse behind the Esso garage on the A429 began.
Scott then led regular consultations with Cotswold District Council and sourced additional funding for the project as well as commissioning services.
A spokesman said: "The fact everything was completed in time for the grand opening of the club in April 2012 is testimony to the diligence, energy and attention to detail which Joe exhibited throughout a difficult period of the club's history."