Get involved! Send your photos, video, news & views by texting EJ NEWS to 80360 or e-mail us
Vale roads beckon for some of UK's elite
2:20pm Friday 15th March 2013 in Sport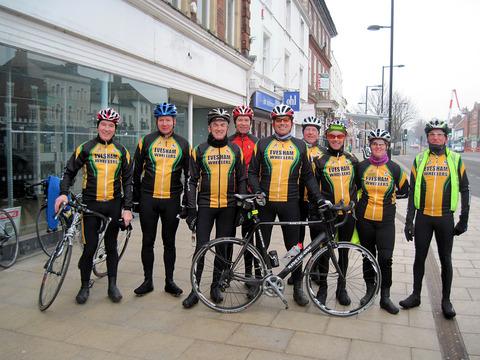 ROAD RACERS: Evesham Wheelers members line up (left to right): Steve Bullen, Stuart Newbury, Norman Smith, Fred Meades, Sean Wilkinson, Richard Cowley, Phil Stayte, Carol Hall and Keith Marshall. Picture: DAVID NASH
COMPETITORS will race through 99 miles of Vale countryside on Sunday as they take on the annual Evesham Wheelers road race.
This year's event sees around 80 of the United Kingdom's top racing cyclists tackle the earlyseason contest.
It will be over four-and-ahalf undulating laps of a testing 22-mile road circuit, starting from Inkberrow Village Hall at 9.30am and finishing uphill near Radford.
Spectators are welcome at the event, which is sponsored by Middle Littleton-based Kanes Foods.