Get involved! Send your photos, video, news & views by texting EJ NEWS to 80360 or e-mail us
Cup hero Smith returns to see Littleton secure victory
11:20am Saturday 16th March 2013 in Sport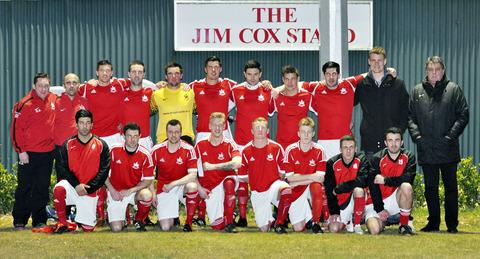 STAR RETURNS: Littleton line up with their special guest. Picture: MICHAEL PITTS
FA Cup hero Matt Smith was back to cheer on his former team-mates as Littleton took over at the top of the Midland Combination Premier Division.
They recorded a fine 3-0 home victory over fellow high-fliers Nuneaton Griff before last weekend's game with Pelsall Villa was postponed.
Oldham Athletic striker Smith, who scored goals against Premier League giants Liverpool and Everton during the cup run, witnessed a fine midweek display.
Jamie Clarke (2) and Dave Edwards scored.
Pershore Town lost 2-0 at Nuneaton Griff in the league after their 1-0 mid-week triumph over Dudley Sports in the Worcestershire FA Senior Urn quarter-finals.
A goal six minutes from time by Phil Marsh earned the deserved cup victory.