Get involved! Send your photos, video, news & views by texting EJ NEWS to 80360 or e-mail us
Walters guides Broadway to county singles success
2:10pm Friday 16th August 2013 in Sport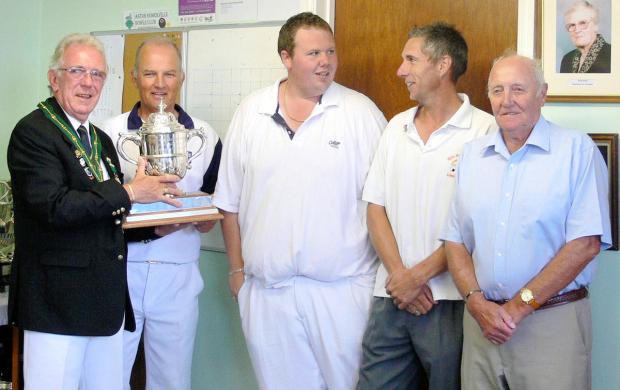 COUNTY WINNERS: President Ken Bick (left) presents the fours winners' trophy to Broadway at the Worcestershire Association finals. Picture: DAVID HILL
BROADWAY enjoyed success in the Worcestershire Association finals which were held at Aston Somerville for the first time.
The games were played to a high standard, particularly the champion of champions clash won by Worcester's Ryan Atkins 21-14 against Redditch's Derek Bond.
Broadway prospered in the fours and the Andrew Walters- led four wood singles, beating St Dunstans from Worcester 27-13 and Chester Road from Kidderminster 21- 14 respectively.
Worcestershire county president Ken Bick, a member of Aston Somerville, presented the trophies.
The club near Evesham also hosted a friendly as Worcestershire beat neighbours Herefordshire by six shots.
Broadway's Sue Davies lost her second national final in a week in the women's singles at Leamington.
Defending champion Amy Truran from Sussex won 21- 14 after Davies beat players from Durham (21-12), Bedfordshire (21-2), Surrey (21- 18), Leicestershire (21-12) and Hampshire (21-7).
The Broadway star built a 10-3 lead but Truran gradually hit back and only allowed four more shots in claiming the title.
Meanwhile, Broadway men triumphed 114-81 at Evesham in the Concorde League with four winning rinks.
Evesham led by 15 shots at 10 ends but Broadway hauled their way back with Geoff Foster leading the way with a 35-18 victory over Gary Hunt. John Oliver recorded a good 23-14 success over Nigel Gould and Mark Rainbow had a close tussle with Keith Bridgewater until pulling away to win 21-14.
Walters was 13-5 down but won six consecutive ends to draw 13-13 and then edged the final one.
Frank Walker was the only winning rink for Evesham, beating Steve Aldren 22-21.
OTHER COUNTY FINALS RESULTS
Triples: Barbourne 18 Redditch 14; pairs: Worcester (Ryan Atkins and Mark Atkins) 20 Worcester (Dean Hemming and Rob Stanley) 6; two wood singles: Chester Road (Grant Burgess) 15 Worcester (Jack Cook) 10; under 25 singles: Redditch (Luke Lane) 21 Redditch (Jamie Taylor) 12.
THE Wychavon Parish Games' bowls competition will be at Bredon on Sunday.
Comments are closed on this article.