Get involved! Send your photos, video, news & views by texting EJ NEWS to 80360 or e-mail us
Harvington make history as promotion is secured
8:40am Saturday 31st August 2013 in Sport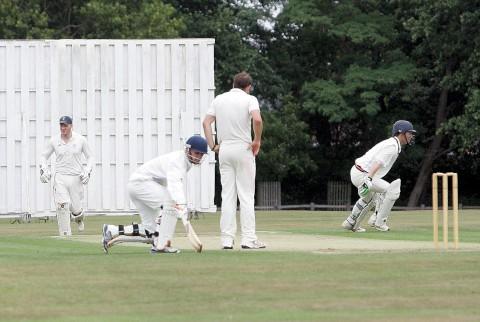 Harvington make history as promotion is secured
HARVINGTON secured promotion to Worcestershire League Division One for the first time after avoiding defeat over a busy Bank Holiday.
They first defeated Rushwick by 68 runs in Division Two despite collapsing to 28- 3 before skipper Simon Price scored a patient 62, supported by Lee Ross (42) and Dan Colburn (32).
The hosts posted a respectable 193-9 in 50 overs and Rushwick reached 90-3 in reply but then quick wickets tumbled.
Jayden Lennox took 4-16 off 14 overs and Ben Hawker 4-12 as Rushwick were dismissed for 125. In their next game at Colwall, Harvington suffered a setback in the warm-up with wicketkeeper Pete Smith taking a blow to the face, resulting in stitches.
Harvington lost the toss and had to field with 10 men as stand-in wicketkeeper Price claimed four catches.
Colwall's Dan McKay (66) top scored as the hosts were dismissed for 204 in 50 overs.
Hawker took 4-83, Colburn 3-44 and Lennox 3-40.
Harvington batted sensibly but Colburn (25), Lennox (29) and Chris Andrews (30) could not build on starts.
When Price was run out for 30, Sam Bannister blocked the last ball to ensure a losing draw on 201-9 and promotion for Harvington.
They need three points at home to Feckenham on Saturday (1pm) to bag the title.
The seconds suffered a 203- run thumping at Burghill and Tillington with Mark Onens (47 not out) providing the only highlight.
They put in a muchimproved display 48 hours later, defeating Ross-on-Wye by eight wickets with Dave Moulson taking 4-57 as the visitors were dismissed for 184.
In reply, Fraser Goodlad (52no), Graham Jones (54no) and Simon Rickett (50) saw Harvington home.
Pershore's slim hopes of overtaking Division One leaders Astwood Bank were ended by a six-wicket home defeat to Redditch.
They are now third in the table behind Bromyard after being dismissed for just 126 with Redditch taking 28.4 overs to reach their target.
Andy Robertson did his best with 36no and 3-30 but received little support.
It was a disappointing way to follow up a sensational defeat of fellow high-fliers Hagley over the Bank Holiday weekend. After winning the toss, David White asked the hosts to bat as Luke Dalley took 3-29, Brendan Adams 2-27 and Lee Wilks 2-47 in Hagley's 201 all out.
Pershore started badly with their top four out for only 22 but Robertson set about rescuing his side's situation.
Adams and Robertson added 35 before the latter was dismissed for an important 78.
With 51 needed for an unlikely one-wicket victory, final pair Dalley (11 not out) and Adams (39no) added the required runs in just eight overs.
Comments are closed on this article.