Get involved! Send your photos, video, news & views by texting EJ NEWS to 80360 or e-mail us
Langston wins Pershore title
8:40am Friday 20th September 2013 in Sport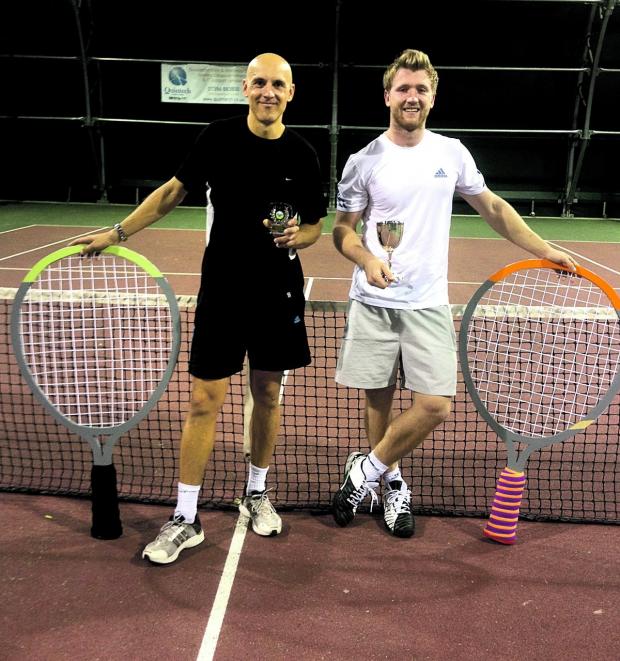 COURT KINGS: Pershore men's runner-up Steve Bauer (left) and winner Mike Langston.
MIKE Langston and Michelle Collings were among the main winners at Pershore Tennis Centre's club championships.
Langston defeated club coach Steve Bauer to win the men's singles, while Collings got the better of Sarah McCormick in the ladies' singles.
The events started in June with more than 190 competitors taking part, leading to 11 finals.
Full results: men's open singles: Langston beat Bauer; ladies open singles: Collings bt McCormick; men's open doubles: Langston and Steve Cole bt Bauer and Dave Morris; ladies open doubles: Collings ad Rachel Prudden bt Sarah Eaton and Marion Phillips; mixed open doubles: McCormick and Will Phipps bt Langston and Naimh Vincent; men's over 45 doubles: Chris Langston and Dave Lambert bt Chris Lowe and Pete McCreanor; ladies over 45 doubles: Eaton and McCormick bt Phillips and Marie-Claire Szczepanik; mixed over 45 doubles: Langston and McCormick bt Morris and Eaton; mixed over 60s doubles: Jane Warner and Niall O'Loghlen bt Pat Graham and Jack Harrison.
Meanwhile, Pershore Tennis Centre is staging an action-packed open day at its Avon Bank base this Sunday (September 22).
It runs from 9am to 6pm and includes activities for players of all abilities and ages such as free coaching, Cardio Tennis and a tournament.
There will be chance for juniors and parents to try their skills at mini tennis for two hours in both the morning and afternoon sessions as well as a junior tennis zone featuring fun games and prizes.
Adults looking to start out in the sport or brush up on their skills can take part in taster class from 12.30pm to 1.30pm.
Cardio Tennis sessions run from 11.30am to 12.15pm and 4pm to 4.45pm, while the tournament is between 1pm and 4pm and costs £2 to enter.
For further details, visit pershoretennis.co.uk or call 01386-556677.
Comments are closed on this article.