Get involved! Send your photos, video, news & views by texting EJ NEWS to 80360 or e-mail us
Worcester ready to celebrate Tewkesbury boxing link
11:30am Tuesday 5th November 2013 in Sport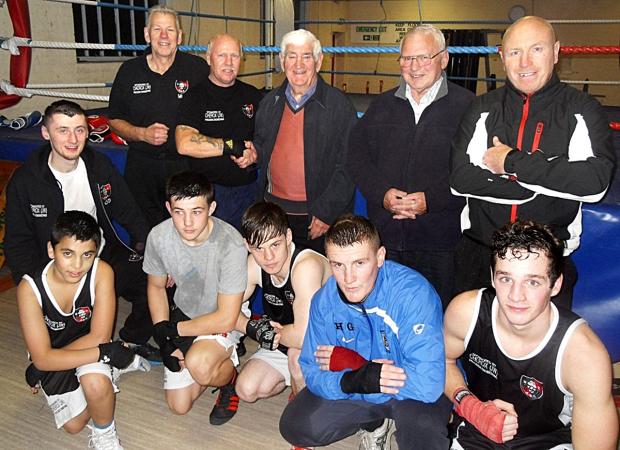 Worcester ready to celebrate Tewkesbury boxing link
WORCESTER Boxing Club president John Curnock is pictured (back row third left) welcoming former Tewkesbury coach Shaun Finn to the coaching staff at Worcester.
They are surrounded by some of the club's boxers and officials.
During the close season, the Tewkesbury club disbanded.
Over the years, the Worcester and Tewkesbury clubs had built up a great relationship. This involved training, sparring, organising shows and socialising together.
The friendships formed by boxers and coaches alike made the decision by head coach Finn and his Tewkesbury boxers to continue their careers at Worcester an easy one.
Worcester's squad has been strengthened tremendously with the addition of the likes of Adam Harper, Tom Barter, Conail Gallagher and the rest of the Tewkesbury boxers.
Harper in particular is gaining a lot of respect throughout the amateur sport and is considered one of the best middleweights in the country. He is determined to go that couple of stages further in the elite ABA's this year and bring glory to Worcester.
He reached the quarter-finals last year by beating the best of the Western Counties Division could offer. Not content with any easy options, Harper says he is prepared to box the best out there in his quest to be crowned champion.
Apart from the boxers, the coaches at Worcester were delighted to welcome Finn to the coaching staff. He will bring experience, contacts, dedication and boundless energy to the team.
To celebrate the link-up of the two clubs, Worcester are holding a public show at the Watson Memorial Hall, Tewkesbury on Saturday, November 23.
There will be 14 bouts on the show with tickets, priced £10 for adults and £5 for under 16s. Doors open at 7pm, with boxing starting at 8pm.
Comments are closed on this article.