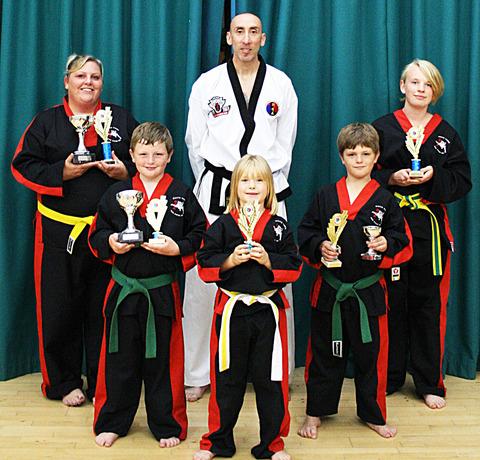 TIGERS ROAR: White Tiger Tae Kwon-Do and Self Defence Club members line up after trophy success. Back row (from left): Sarah Boden, Paul Wanklyn and Gemma Ranford. Middle: Jake Boden and Bradley Boden. Front: Ruby Keen.
FIVE students from the White Tiger Tae Kwon-Do and Self Defence club in Tewkesbury secured eight trophies at the NITA Midlands Open in Hereford.
Three students from the same family took a medal of every colour with debutant Sarah Boden winning gold in the patterns and sparring.
Her son Jake also won gold in patterns and bronze in sparring while his brother Bradley won silver in sparring and bronze in patterns.
Fellow students, Gemma Ranford and Ruby Keen, also entered their first competition with Radford claiming silver in sparring after winning her first two fights.
Keen, aged six, won bronze in sparring after coming up against more experienced fighters. The club meet at the Wheatpieces Community Centre, Walton Cardiff, Tewkesbury, and anyone interested in training can contact Wanklyn on 07722 584919.
Comments are closed on this article.