Claimed to be "the most secure coin in the world" by government, here's everything you need to know about the UK's new pound coin:
The 30-year-old circular pound coin is being taken out of circulation by next autumn, with a newly designed coin arriving in March ready to take its place.
How is the coin different?
It has 12 sides and is bimetallic, like the £2 coin. The outer gold coloured ring is made of nickel-brass and the inner silver coloured ring is made of nickel-plated alloy.
MORE: Royal Mint presses last batch of 'round pound' coins
It has a hidden image like a hologram, which changes from the '£' symbol to the number '1'.
It has micro-lettering on both faces of the coin. On the head side it reads 'One pound' and on the tail side the year of production.
There are grooves on alternate edges and a hidden high-security feature to protect it from counterfeiting.
The coin is thinner (2.8mm) and lighter (8.75g), but it has a larger diameter (24.43mm).
It has a new design that shows the English rose, the Welsh leek, the Scottish thistle and the Northern Irish shamrock all joined by one stem within a royal coronet. It also shows the fifth coinage portrait of the Queen that was unveiled last year.
Why is it being changed?
The old coin is vulnerable to counterfeiting. The Royal Mint estimates that one in thirty £1 coins in circulation are artificial and this negatively impacts businesses and taxpayers.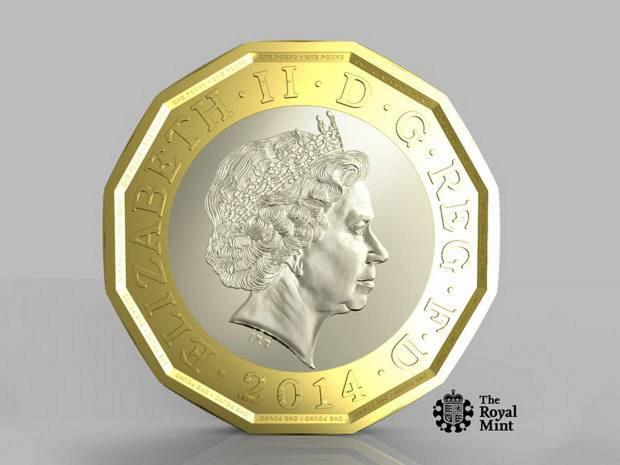 How will my business be affected?
The Royal Mint and government are encouraging businesses to prepare for the new coin.
Parking meters and vending machines are just two of the things that will need adapting.
MORE: 10 facts about pound sterling
Businesses need to get ready for:
The preparation period: Between October 2016 and March 2017.
Businesses should upgrade or adapt equipment to handle the new coin, train their staff to recognise the coin's new features and make arrangements to return the current and new coins in separate packaging to their banks.
The co-circulation period: Between March 2017 and September 2017 when both £1 coins are in circulation simultaneously.
The demonetisation period: Autumn 2017, when the old £1 coin is no longer legal.
David Gauke, chief secretary of the treasury, said: "The introduction of this new £1 coin will be a highly significant event.
"We are working with the Royal Mint to ensure key industries are ready and to ensure a smooth transition."
Visit thenewpoundcoin.com for more info.